Recruitment software is a tool that helps human resources, talent acquisitions, and recruiting professionals streamline parts of the hiring process, including finding, screening, and interviewing potential employees. It is often considered a subcategory of HR software. The main types include applicant tracking software and candidate relationship management systems.
One type that you might be familiar with is resume screening software, which looks for job posting keywords in your resume to automate the resume review process.
With all this new tech, there are a lot of opportunities for career growth and high earnings in this industry, and salespeople looking to break into software, or simply make a career transition, should explore the idea of recruitment software sales jobs.
In this article, we'll help you do just that by telling you what it's like to work in the industry, how much money you can expect to earn, and top recruiting software companies to check out.
What it's Like to Work in Recruitment Software Sales
As a software salesperson, you'll spend the bulk of your day sourcing leads, holding calls and meetings with prospects, and taking the necessary actions to move them through the pipeline to a close.
In recruitment software sales, your main point of contact will likely be an HR professional within a company who needs help managing their recruiting activities, from screening candidates to tracking applicants.
If you're selling to a larger company, it's likely they have an in-house recruiter, but small companies might simply rely on a single HR staffer, or a member of the leadership team, to lead the evaluation of your software solution. Sometimes, you might also sell to staffing agencies.
Regardless of your main point of contact, since it's B2B sales, you'll likely have to win over multiple decision-makers.
How to Succeed in Selling Recruitment Software
Companies are pouring a lot of money into recruitment software at the moment so they can make sure they hire the right person for the job as fast as possible. That said, salespeople still have a lot of work to do, as any software purchase can be complicated, costly, and at times confusing.
Here are some of the best practices of successful recruitment software sales reps:
Emphasize the Central Database: Show prospects how much easier life will be with all the data they need, from resumes and interview notes, in one searchable, analyzable, system. This is especially relevant if selling candidate management software or ATS.
Talk to End-Users: Hold calls with the people who will use the software on a daily basis. Uncover their current issues, then share these pains and how your tech can solve them with your decision-makers.  
Lead with Benefits, Not Features: Begin the sales conversation with a comprehensive overview of the software and insights into how it can improve their business.
Avoid Using Jargon: Decision-makers don't care about the buzzwords "algorithm" or "big data". And when you don't think words will suffice, show them the feature in a web demo.
If you follow these rules, along with the general rules for success as a software sales rep, you should soon rise to the top of your sales team.
Recruitment Software Sales Jobs Compensation
The average salary for an HR software sales rep is $82,353 per year, and, since recruiting software is a type of HR software, the recruiting software sales rep's average salary is likely similar.
Keep in mind that this number doesn't include commission, which usually makes up about half of a rep's total earnings, and is equal to the base salary. That means Account Executives in this industry can expect to earn around $160,000 per year.
Trends in Recruiting
Knowing the trends in recruiting helps you engage in informed and sophisticated conversations with buyers, and, as a result, buyers will consider you an expert. This expert status will lead more of them to trust you and, in the end, buy from you.
Here are some top trends in recruiting:
Enhanced Candidate Experiences: Companies are focusing more on selling candidates to work for them throughout the hiring process. This includes best practices like always keeping the potential employee informed and up to date.
Social Media Recruiting: Recruiters are sourcing more candidates on social media platforms like Twitter or Facebook. Many recruiting software platforms offer features to help manage this activity.
Artificial Intelligence: Recruiters are trying to remove bias from the interview review process by offloading some of their recorded interview assessments to intelligent computer programs.
Emphasizing Soft Skills: Hiring managers are trying to better ascertain whether an individual has certain soft skills like teamwork or creativity, as these are important traits for success on the job.
Predictive Analytics: Recruiting software often helps employers pick the right candidates for a specific job based on an analysis of data points like the person's education level, job history, and other factors. 
Faster Hiring Decisions: Companies are trying to streamline the hiring process and make offers faster so that they can snatch up talent before the competition does. Software automation is important in this endeavor.
In addition to helping you sell your software, knowing the trends of your prospects' industry before applying for jobs will help you determine if you find their problems and goals interesting. If you do, that can be a good indicator that recruiting software sales is right for you, since you'll likely be having conversations about the above trends frequently.
The 3 Best Recruitment Software Companies to Work For
Three of the best recruiting software companies, in terms of company rating and average sales rep earnings, are Oracle, ZipRecruiter, and Bullhorn. Below we share how much they pay different reps, an overview of their software solutions, and what current and former employees have to say about them.
https://www.toolbox.com/hr/recruitment-onboarding/articles/top-applicant-tracking-systems/
ZipRecruiter
ZipRecruiter's recruiting software helps businesses find high-quality candidates for their job openings using artificial intelligence technology. An Account Executive at ZipRecruiter can expect to earn around $80,000 per year, while Enterprise Account Executives, in charge of larger accounts, earn an average of $145,000 per year according to Glassdoor.
It's known as a great place to work, with 82% of former and current employees recommending working there to a friend, and 86% of them approving of the CEO. They often cite excellent benefits and company culture.
https://www.glassdoor.com/Reviews/ZipRecruiter-Reviews-E531004.htm
Taleo Oracle
Oracle's Taleo offers a suite of software tools for sourcing, recruiting, and onboarding candidates. It currently holds about 19% of the applicant tracking software market share.
Enjoying a lucrative sales position, Account Executives at Oracle earn an average of about $100,000 per year. And, having the luxury to sell such a well-known brand, there are opportunities for earning extremely high commissions.
Account Managers, on the other hand, earn a similar average of $95,000 per year. And the Senior Sales Consultants bring home $150,000 per year.
As a place of work, Oracle is a 3.9/5 based on Glassdoor reviews from current and past employees. A common pro listed is the great work/life balance, and a common con is poor management.
https://www.glassdoor.com/Reviews/Oracle-Reviews-E1737.htm
Bullhorn
Bullhorn is a software company that offers candidate management software, applicant tracking systems, and operations software to companies in the staffing industry.
Account Executives at Bullhorn earn an average of $95,000 per year, and Business Development Representatives earn around $56,000 annually.
Employees seem to love working at this company, with 94% of them saying they'd tell a friend to work there and 96% approving of the CEO. The company also boasts a ridiculous 4.7 out of 5 rating as a place to work on Glassdoor. It's known by employees for having a great culture with outstanding people.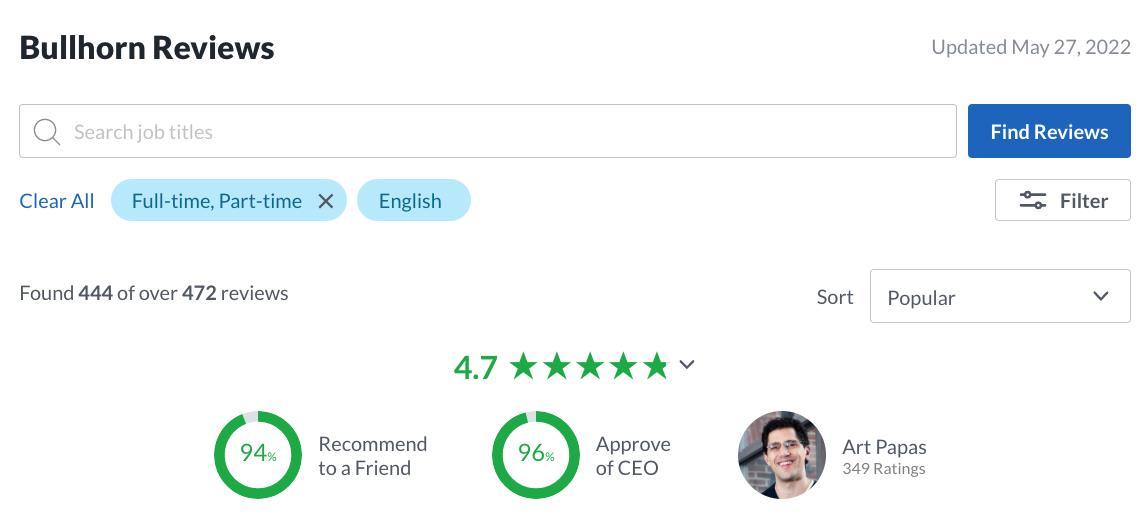 https://www.glassdoor.com/Reviews/Bullhorn-Reviews-E155930.htm
Is Recruitment Software Sales Jobs Right for You?
If you're interested in helping companies improve their recruiting process and in turn increase their bottom line using cutting-edge technology like predictive analytics and AI then this may be the right career move for you. Not to mention, in recruiting software sales you can earn a killing.
If you'd like to learn more about this field, start checking out job postings on the Sales Trax job board, which is dedicated to helping you find your next big software sales job.
Or, if this seems incredibly boring, consider reading about another software sales field, like fintech or K-12 software.