HR software refers to any online software solution that helps human resources professionals more effectively execute employee management functions like recruitment, onboarding, workforce management, performance tracking, payroll, and more. It saves HR professionals time by automating administrative tasks and reducing paperwork.
In this article, we'll help you decide if taking a sales job selling HR software is a good move for you. We'll first explain what it's like to sell for an HR software company and share the pay they can expect to earn. Then, if you think it's a good fit, you can read about some top Human Resources software sales jobs from companies that seem to always be looking for tech sales talent and are great to work for.
What it's Like to Work in HR Software Sales
As in most software sales professions, Human Resources software sales jobs will spend the majority of their time communicating with potential buyers in the space, whether that be in a web demo, a sales call, or a cold prospecting email.
HR software companies employ business development reps to find and open sales opportunities, Account Executives to close them, and Customer Success Managers to manage the relationships post-sale.
Compared to the target markets of more specialized software types like proptech or ed-tech, HR software's market is extremely broad. While not all businesses have buildings to manage or students to educate, basically all companies have employees to manage, and they often need help doing it effectively. This means you'll likely have a large pool of potential companies to reach out to.
Within those companies are the HR professionals. In most cases, your target prospect will be a Chief Human Resources Officer or the person in charge of the human resources department. However, if you sell to small businesses, you might be speaking directly to the owner or CEO.
A slightly annoying aspect unique to selling into the HR departments is that your point of contact may not be the decision-maker. Oftentimes, the head of HR will have to talk with upper management before signing off on the purchase. This means the HR person will have to do some internal selling. However, this isn't always the case, and it doesn't mean you can't coach them up. 
Pro Tip: If you go into HR software sales, or any B2B sales job where you sometimes have to rely on your main points of contact successfully selling internally, I recommend checking out The Challenger Customer. It teaches you how to equip champions of your product with the messaging and strategies they need to convince their higher-ups to buy your solution. 
HR Software Sales Compensation
Though it's hard to find average salaries and commissions of HR software salespeople, we can tell you the average earnings of the general tech salesperson: $100,680 per year, according to Glassdoor. Around $72,000 of the total earnings is the base salary, and about $28,000 is commission. HR software sales compensations shouldn't fall too far from those numbers, especially if you're an Account Executive. If you're a BDR, earnings may be 20-40% lower.
We can also look at some average compensations for sales reps at top HR software companies:
ADP: Sales Executives at ADP earn an average of $133,389 per year based on 191 submitted salaries.
Workday: Account Executives here average 219,130 in total annual earnings, based on 105 salaries from current and past employees. Corporate Sales Development Reps make about $80,000 per year.
Paylocity: Account Executives here earn an average of $89,392 annually based on 82 submitted salaries. 
Most tech sales jobs pay higher than in other industries. They also treat their employees well, since they put such a high premium on retaining talent. When working for an HR software company, expect great benefits and perks as well. They know it'd be hypocritical to sell software that helps companies nurture their employees while they treat theirs poorly.
How to Succeed in HR Software Sales
First of all, to succeed in selling HR software, you're going to have to adopt a consultative sales approach, meaning you'll spend plenty of time learning about a prospect's employees, management practices, current processes, and pain points. This will reveal their needs. After in-depth discovery, you'll need to show them exactly how your software platform helps them satisfy their needs.
Of course, to be perceived as a credible consultant, you have to develop strong knowledge about your product and HR as a whole. This will require some intensive study on your part if you aren't coming from an HR background. However, it's totally doable. And you'll also gain knowledge every time you conduct discovery with prospects. Take advantage of that time and ask questions to really learn the routines and tasks of the HR professionals you speak with.
Trends in the HR Management
Over the past couple of years, human resources have experienced a lot of change, especially because of the pandemic. That change directly impacts HR software sales and the solutions they create. Therefore, it's worth looking into the major HR trends.
Remote Work is Much More Common: Ever since the pandemic hit companies are becoming more open to remote work. Companies will need HR software to help them adjust to this big change.
Mental Health is Getting More Focus: HR professionals are dedicating more time to ensuring their employees are happy at work. Companies like EY are giving employees access to counselors and monthly challenges to improve their mental health.
HR is Becoming Increasingly Data-Driven: HR professionals are leveraging data to show how HR practices are instrumental to business goals and to analyze methods for improving employee satisfaction. HR software is necessary to do these tasks.
If anything, your reaction to the above trends will tell you if you find this industry interesting or not. Interest is important because you'll be having a lot of conversations about employee management if you get an HR software sales job.
The Major HR Software Companies Hiring Salespeople
There are some large and successful HR software companies that hire a lot of salespeople and pay well. Workday, Ultimate Software, Paylocity, and ADP are a few that we'll discuss below.
Workday
Workday sells payroll and workforce management software that helps companies optimize their time, talent, and employees' energy. According to its recent and current employees, it's a great place to work; it received a 4.2/5 rating on Glassdoor, and its CEO has a 92% approval rating.
Ultimate Software
Ultimate Software (or UKG) is a leader in human cloud human capital management (HCM) software and other employee experience solutions. Based on reviews by current and past employees, the company offers an amazing work/life balance and is one of the best solutions in the HR software market, meaning salespeople should have an easy job selling it.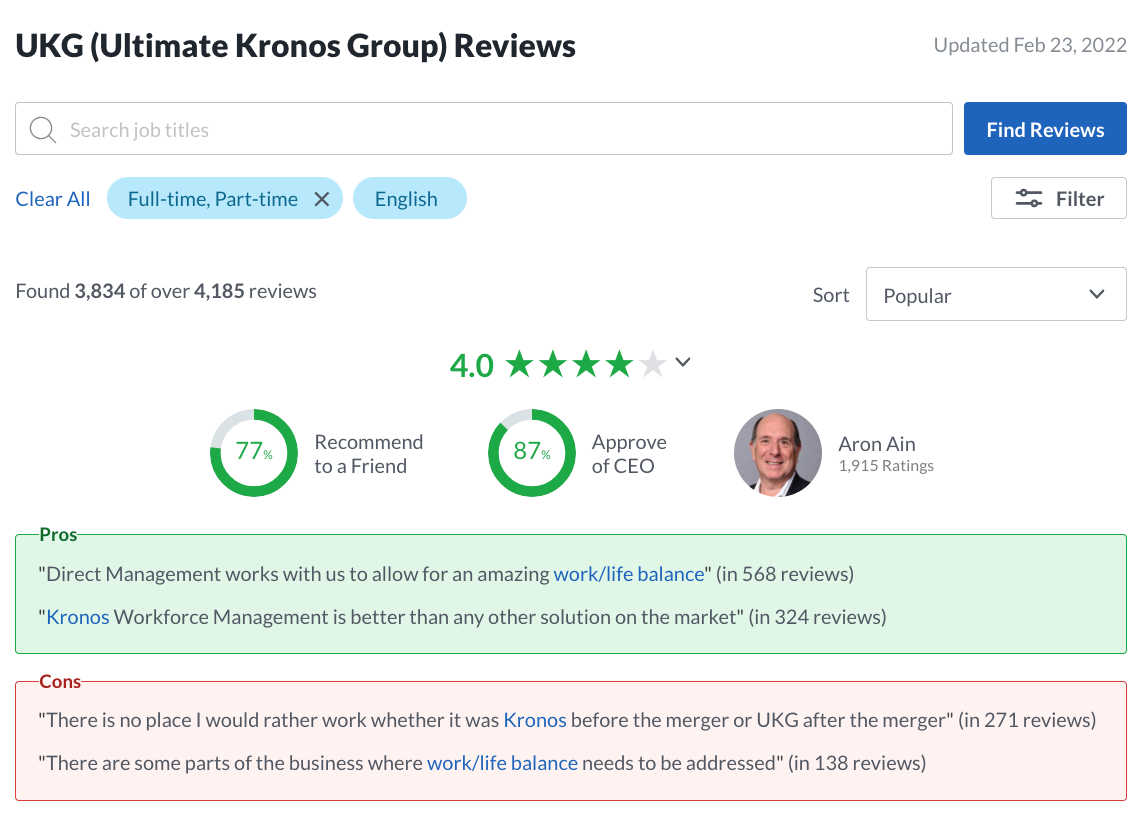 Paylocity
Paylocity offers one of the best software solutions for payroll, benefits, and talent management. 83% of around 2,000 former or current employees would recommend working there to a friend. The company is also known for its tremendous work/life balance and benefits packages. No wonder 92% of employees approve of Paylocity's CEO.
ADP
ADP has been around since 1949, and it's now a leader in HR and payroll software solutions. Working for ADP is rated 4/5 stars, and many employees state great benefits as a reason to work there. The training is also known to be top-class, so it's great for salespeople looking for a crash course in tech sales and HR.
Is Human Resources Software Sales Job Right for You?
If you like thinking and talking about ways to improve employee experience, and want to practice selling in a consultative manner, then the Human Resources software sales job might be right for you. This is especially true if you find software and the way it can be used to solve problems interesting. To find HR tech sales jobs, check out the Salestrax job board.