Sales development representatives can dramatically improve their sales numbers by reading books geared towards various sales development skill sets like prospecting, cold calling, and persuasion.
When you consistently read sales books, apply their practices, methods, and ideas to your job, and test the outcomes, you constantly improve. Not to mention, you are able to spot areas of your game that need tuning up or mistakes that you commonly make. Knowledge is power.
Below are some of the best Sales Development Representative books salespeople should read to book more qualified meetings. They'll also help you advance in your sales career by providing you with skills that transfer over to Account Executive and sales management roles.
Best Sales Development Representative Books
1. How to Win Friends and Influence People
Dale Carnegie's How to Win Friends and Influence People is an all-time classic business book and should be on the desk of every new business professional. In it, Mr. Carnegie shares 6 rules to make people like you, 12 to persuade them to your way of thinking, and nine to change and lead people without annoying them.
Most of the rules can be applied to the sales development job. For example, one of the most powerful rules in this context is to take a genuine interest in other people. When you intentionally talk with your leads about what interests them — their bottom line, processes, etc. — they'll be more likely to want to continue talking with you.
"You can make more friends in two months by becoming interested in other people than you can in two years by trying to get other people interested in you." - Dale Carnegie
My favorite part about the book was how he used real-world examples to show each principle in action. I can still remember vividly the young man walking around the elderly woman's house and applying the rule about appreciation.
I remember he complimented her car and her taste in decor, and by the end of their tour, she offered him the car because he, unlike many others in her life, appreciated nice things.
This book was a joy to read. You'll start to think about your interactions with potential buyers in a more strategic way. I recommend starting with this one before moving on to the others.
It's just so applicable to every part of your career and personal life since its main focus is to help you manage your relationships with people, regardless of their relation to you. It'll help you impress your manager, befriend your colleagues, manage direct reports, and even manage a fight with your significant other.
2. Influence: The Psychology of Persuasion
Influence by Robert Cialdini is one of the best sales development representative books. It teaches you how to persuade people to take action using methods that follow certain six principles of psychology he has discovered. Its tips and tricks can help SDRs improve cold email conversion rates, run more effective cold calls, and ultimately persuade more leads to accept a meeting.
There are six rules he covers: reciprocity, commitment and consistency, social proof, authority, liking, and scarcity. For an example of how they can be used to create sales methods that work, let's look at reciprocity.
This principle states that people feel obliged to give you something after you give them something. It just feels rude deep down not to.
With an understanding of this psychological principle, you could design a cold outreach method that takes it into account. Perhaps you send a lead a free industry study or a free pair of branded socks, then, a few days later, ask for a meeting. They might be more willing to accept it than if you hadn't leveraged the principle.
One of my favorite aspects of this book was how it gave me a better understanding of human nature and what makes people comply. Like with How to Win Friends and Influence People, while reading I felt that there were many parts of my life where I could use this knowledge for my benefit.
3. New Sales. Simplified
New Sales. Simplified by Mike Weinberg might be my favorite one on the list. It made such an impact on me as a new SDR at a SaaS startup. When I started, I had no real strategy for opening cold calls or prospects. After finishing the book, I had a framework I could follow for each of the following SDR responsibilities:
Creating a prospecting list of high-quality leads.
Making cold calls that grab a lead's attention immediately. 
Writing cold emails that work.
Leaving voicemails.
The most valuable part of the book, in my opinion, is its power statement section. Here he walks you through how to create a document that can be used as source material for your cold call openings (a hard thing to get right) and cold emails.
It prompts you to write out who your customers are, their common pain points, your company's differentiators, and your offerings. T
After doing this you'll have a 1-2 page document that can be chopped up and used for various purposes. For example, he recommends opening your cold call with the introduction and then mentioning 1-2 pain points from the power statement that this specific lead likely suffers from.
As you can probably tell, this book is extremely pragmatic and instructive. He lays out the steps you need to follow when enacting his strategies and provides plenty of examples to help you understand how other salespeople might apply them. If you want to master the art of cold calling, this book is definitely for you.
4. Fanatical Prospecting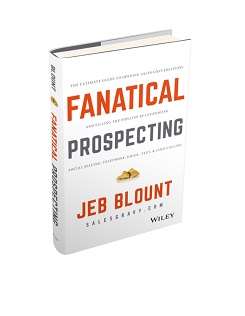 In Fanatical Prospecting, Jeb Blount teaches salespeople how to prospect effectively by outlining his step-by-step methods for the most crucial aspects of the job.
For example, you'll find the 5 Cs of social selling to learn how to use social media to book more meetings and the 5-step telephone framework to improve your cold calling and secure appointments quickly.
A huge advocate of prospecting for business and personal sales success, his words and passion also furnish readers with the motivation SDRs need to get out there and prospect in the face of potential failure.
After reading this, you should come away with techniques and strategies that you can immediately apply to your cold calls, meetings, and other responsibilities. These tactics should help you initiate more conversions, overcome those early-stage objections, and book more appointments with high-quality leads.
5. Sales Development: Cracking the Code of Outbound Sales
Sales Development by Cory Bray is solely focused on the sales development role. The book covers the sales process, email, and phone techniques, how to understand your buyers' needs, and how to work with other departments. Insightful and actionable, it's becoming one of the most popular handbooks on the SDR position.
The book is also great for those still considering taking a job as an SDR because it gives you a comprehensive overview of the position, details what is expected of you, and tells you what needs to be done to succeed. An entire section of the book is dedicated to teaching you how to get an SDR job.
The book also proves useful for SDRs who want to learn how to get a promotion. It teaches certain skills like discovery and pipeline management that when acquired will impress your manager and make them want to promote you. There is also a helpful section on how to find a mentor, something that can definitely up your sales skills and accelerate a promotion.
As a word of advice, don't get this book from a library. Instead, buy a copy and mark it up. Fold corners, highlight passages, and keep the book on your desk for reference as you come across obstacles or questions through your day-to-day as an SDR. It will serve as a useful guide for the entire beginning portion of your career in tech sales.
6. The Challenger Sale
In The Challenger Sale, Mathew Dixon and Brian Tracey argue that to be a great salesperson in today's world you need to challenge your prospect's beliefs about their business and the marketplace, like a good advisor would do. And they teach you how to use this sales methodology.
Compared to buddying up to leads and agreeing with their every word to win their favor, this method sets you apart from the competing SDRs. You'll be seen as a source of novel ideas that can help your leads get ahead.
Although this book is primarily geared toward Account Executives, it's still a useful read for SDRs. It will teach you to be bold, express your informed opinions, and win leads over to your way of thinking. You'll also earn their respect.
When many decision-makers think of SDRs as young, uninformed telemarketers, being an assertive challenger can really eliminate that misconception and open their minds to working with you.
7. Way of the Wolf: Straight Line Selling
Written by the wolf of Wall Street himself, Way of the Wolf is a fun and enlightening read for any SDR interested in learning Jordan Belfort's step-by-step system he and his sales reps used at Stratton Oakmont to make him, his colleagues, and his client's boatloads of money.
It's especially useful for SDRs because he focuses a lot on tips and tactics to use when selling over the phone, such as changing the tonality of one's voice at the appropriate time during the call, or how to express caring or confidence over the phone.
Unlike many other sales development representative books, he teaches you how to create a sense of urgency in your buyers. Even if you don't use the same level of pressure in your SaaS calls that a Wall Street person may, it's still important to know how to convince a buyer that procrastinating will hurt them in the long run. This can get them to accept the meeting.
Overall, this book will help you become a better cold caller, entrepreneur, speaker, and negotiator.
Apply What You Learn
Intake isn't the only part of the reading process. To make this a part of your sales training, you need to apply what you've read.
When you come across something that you find especially applicable or useful in any of the above sales development representative books, it's important to make a note of it. Then, at work, try out the technique, methodology, or tactic multiple times and see if you get results.
Without this approach to reading sales books, you'll be reading mainly for inspiration rather than for improvement. While motivation is important, it won't make as much of an impact on your sales numbers and career as trying new, tested approaches. 
That said if you're ready to take the next step in your career and land a lucrative role as an SDR in tech, check out Sales Trax, the job board specifically for tech sales.