Customer Success Managers (CSMs) are first and foremost advocates for their customers. They help buyers achieve success with the product or service by training them, answering their questions, solving their issues, and helping them strategize about how to get the most out of their purchase.
This ensures the customer's satisfaction. And a happy customer means more upsells, cross-sells, referrals, and monthly revenue coming in for the company. But, maintaining and growing these relationships with a portfolio of high-value customers is a tough job. It calls for consistent problem-solving, diplomacy, and attention.
Therefore, CSMs usually demand a high rate — anywhere from $60,000 - $200,000/yr — for their skills, depending on their level of experience, location, and industry. Now, let's go over the elements that make up the total Customer success manager earnings.
How Are CSMs Compensated?
There are two main compensation plans for CSMs:
Base Salary Only: Regardless of performance the CSM can only make their base salary. This can be demotivating to CSMs since other than keeping their jobs and reputation there is a little financial incentive for them to facilitate upsells or re-signings.
Base Salary + Bonus: A CSM earns a base salary and also has a small bonus structure. They might earn bonuses for hitting certain quantitative objectives that are related to churn rate, retention rate, cross-sell revenue, NPS, etc. This can be motivating.
CSMs might also earn additional cash compensation in the form of stock bonuses or commission sharing, as you can see from LinkedIn's CSM position.
Image via Glassdoor
According to Harvard Business Review's article on the customer success role, 80% of companies from a ZS survey put their CSMs on compensation plans that are 75% base salary and 25% incentive pay, such as the bonuses discussed above. These same companies give their BDRs and Account Executives/Sales Reps a salary/incentive split of 55/45.
Now that we understand how they're paid for their work, let's go over how much these CSMs earn on average. Then we'll take into consideration factors such as industry, experience level, and location to give you a full picture of how much money you could bring in as a Customer Success Manager.

How Much Do Customer Success Managers Earn on Average?
Customer Success Managers in the United States make an average base salary of $74,500 a year, according to Glassdoor's data. This is well above the national median income, which currently hovers around $31,000/yr.
The $74,500 also doesn't take into account other forms of compensation often rewarded to CSMs such as KPI bonuses, commission sharing, or revenue-sharing.
After those are included, an experienced CSM in a lucrative industry could bring home upwards of $150,000/year. For example, an average CSM at Microsoft earns $136,10/yr total, but the average base salary is only $120,975. And, the top 25% of CSMs at the company make an average of $146,000/yr. Meanwhile, the top 10% are bringing in close to $200,000/yr.
As you might've guessed after comparing Microsoft's average pay to the national average, which company you work for affects how much you can earn as a CSM.
Here are what some companies are averaging for their base salaries: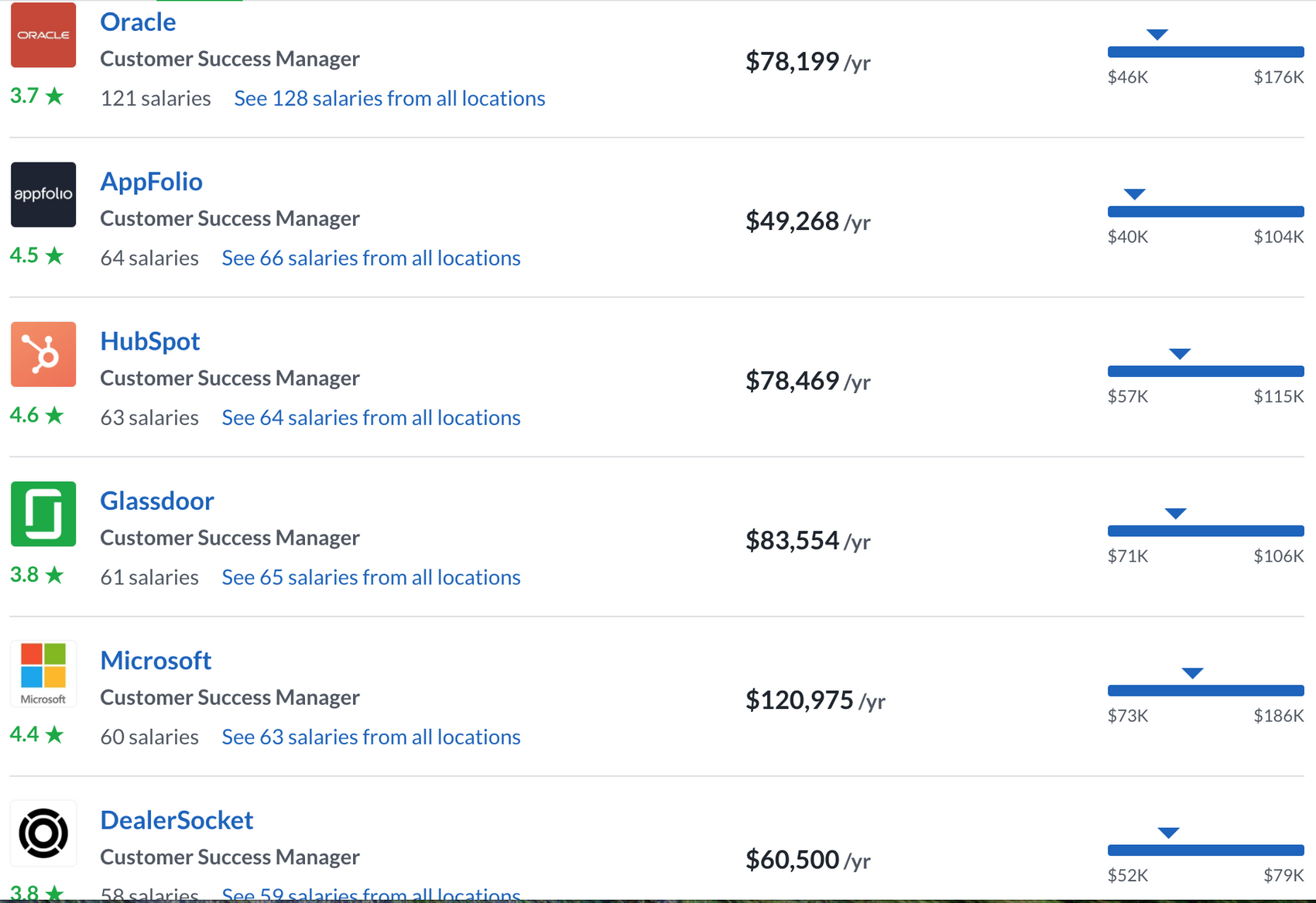 Image via Glassdoor
Now let's take a look at how much is the Customer Success Manager earnings across different industries.
Customer Success Manager Earnings by Industry
Which industry you work in will affect how much you can earn as a Customer Success Manager. Right now, the software industry is the one most commonly associated with CSMs, but other industries like accounting & legal, financial services, and consulting also have CSMs managing their clients' accounts.
Here's a table comparing CSM base salaries from different industries.
As you can see, both accounting and legal and computer software/hardware offer the highest average base salaries to CSMs.
Now let's break it down by the experience level of the CSM.
Customer Success Manager Earnings by Experience Level
Typically, CSMs with more experience earn more money, especially if they're promoted to Senior Customer Success Manager, a position that earns an average base salary of $95,764/year. Let's see the effect a few additional years of experience has on a CSM's base salary.
A CSM with 15+ years of experience will make on average $30,000 more than a first-year CSM. That's an average of about a $2,000 raise each year. Of course, most CSMs will switch gears and take on other positions before they reach that number. Some might become Directors of Customer Success, Senior CSMs, or Account Executives. A Senior CSM with 15+ years of experience will make on average a base salary of $123,119/year.
Software Customer Success Manager Earnings by Location
Because many of you reading this will be looking for CSM roles in the SaaS industry, let's confine this search to data from computer software & hardware CSMs. We'll look at the base salaries of Customer Success Managers at SaaS companies across different tech hubs in the USA.
Out of the companies on the list, San Francisco offers the highest average base salary for Customer Success Managers at $95,357/yr. Plus, the average additional cash compensation is $16,685/yr.
Bottom Line
Becoming a Customer Success Manager is a great way to secure 80,000 plus dollars a year without the constant stress of hitting quota and closing deal after deal. If you like problem-solving, building relationships, and getting to know your software solution inside and out, check out our article about customer success management and what it entails.